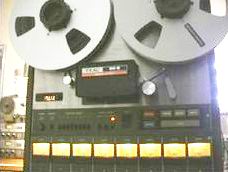 By an awful lot of user-demand, I have finally created ogg files out of a unique vinyl pressing from 1981. It's no surprise that I get emailed a lot about requests that are on this page, but sometimes there's more to it than meets the eye. I got asked to specifically record/encode the ORIGINAL versions of a few tracks, not the 'let's remaster them, he's dead now anyway' releases (that all came out after synth meister Patrick Cowley died of aids in 1982).
So, I proudly present "I Got A Line On You", "I Wanna Take You Home", "X-Factor" and the "Menergy (reprise)", download-links are in the top-left column. I especially recommend you to get "I Got A Line On You", with the amazing vocal lead of Jo-Carol Block that seems to be pure whitebread soul energy, in this excentric fast dance cover of the 1969-original by Randy California. Nobody mixed down tracks like Cowley did, with such fascinating subtle arrangements, with those warm long lexicon reverbs and echoes. Not to mention the daring stereo-images on the vocals. Vocals that sound like they are a magic glue holding his synths together. Just think, he recorded these tracks using an eight track analog reel-to-reel tape-recorder, the drop-outs in the beginning of X-Factor tell the tale… There's something about the dirty way he combined warm analog soulful themes with synthesizers, and in my opinion this music will never die, and is impossible to re-create. Check the synth-solo on 3'47 in "I Wanna Take You Home"; where do you come up with cheesy happy sounding themes like that?
Oh and no, I'm still not gay.