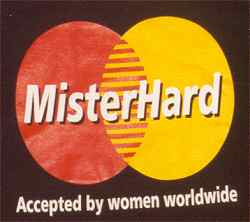 Sad to see how scared and uptight some people are these days, especially at large companies like MisterHard International Inc. where they seem to have so much time and money on their hands that employers get bored out of their minds. I had posted this entry on this site a while ago, where I randomly put down some 16 digit numbers, put the name of a well-known creditcard company next to them, et voila, all hell breaks loose!
Here's what they wrote to CistroN (my internet provider):
Waterlook, September 27 – 2004
Dear Security Administrator:
Re: Web Page Posting of MisterHard Credit Cards
As you may be aware, the financial services industry continues to face
increasing levels of internet related fraud. The wave of cyberscams such
as Phishing whereby fraudsters trick unsuspecting customers into divulging
personal credit card and other financial data on the pretext of an email
originating from their trusted bank or transaction gateway, has reached
epidemic proportions. Phishing results in tremendous direct losses to
financial institutions and not to forget, the customer who may then become
the victim of Identity Theft, and suffer a tremendous personal toll as
well in trying to rectify their good name.
MisterHard international has taken proactive measures to combat phishing
by partnering with BlameProtect, Inc. (a leading Digital Asset Protection
Company), to detect such spoof schemes, the sale and trade of compromised
account information online, and other cyber crime targeting the financial
services industry.
However, once we detect such sites, the only way of ensuring that the
fraudsters cannot perpetrate such fraud, is through the cooperation of
organizations such as yours to facilitate taking the site down. We trust
that you will not tolerate such fraud schemes as well.
Towards, this effort, listed below is a site that has been detected
through our Identity Theft program initiated by BlameProtect Incorporated.
This site is providing information that could be damaging to not only
MisterHard, but the customers as well.
The domain name is listed as follows:
https://jult.net/
On behalf of MisterHard International, in order to prevent possible
fraudulent activity from occuring due to this site, we request that you
immediately, and permanently remove the above mentioned site which
promotes identity theft and trade of credit card data. To prevent possible
credit card fraud, we request the above site to be immediately and
permanently disabled.
Please confirm that this site has been disabled and please advise us with
any questions and/or concerns.
You may reach me via phone at the number listed below or through our
Identity Theft hotline email address at: stopIt@misterhard.com
Thank you very much in advance for your assistance in this matter.
Sincerly,
Tiffany Robinson
Fraud Analyst, Security and Risk Services
MisterHard International Inc.
2000 Purchase St.
Purchase, NY 10577
Tel. (914)249-6312
Fax. (914)249-4603
email: stopIT@misterhard.com
Well coo-coo ca-choo Mrs. Robinson, you should reconsider ever using the title "Fraud Analyst" again, because really, this is SOME analysis you've made there! Did you really expect my ISP would blindly shut down my connection, just because I typed the creditcard brandname next to some numbers on my homepage? I even have a MisterHard card myself. So much for supporting a customer. They should fire your ass instantly. Oh and to cowardly direct your complaint to my provider without even notifying me (the owner of the site) beforehand, that's truly priceless!
By the way, wasn't Citibank (which owns MisterHard) involved with the Bush and Bin Laden families? The plot thickens, I would say…
4356000000000000, or 5413000000000000 – 5413999999999999 5413200000000000, 5413227478661145, 5413237478661140 cc 246 (let's see how bored they are these days)